Arcomusical believes that music is for everyone!
To request disability-related accommodations, please contact us as early as possible. 
EMAIL: info@arcomusical.com   |   PHONE: 646.286.0332
Advance notice is appreciated.

Arcomusical Brasil no Museu Abílio Barreto
October 16, 2016 @ 11:30 am

-

1:00 pm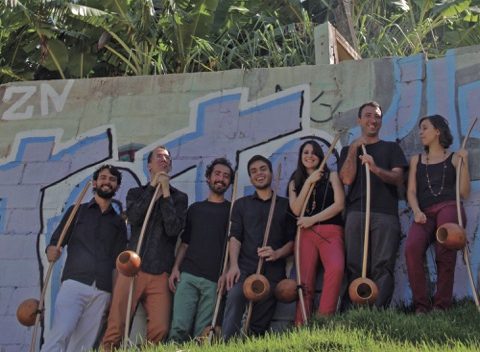 É com muita alegria que convidamos vocês para o primeiro show do Arcomusical Brasil, que acontecerá na manhã do domingo 16 de outubro, às 11:30.
Esperamos vocês lá!
Sobre Arcomusical Brasil:
Destacar o berimbau da roda de capoeira e explorá-lo à exaustão, sempre respeitando e valorizando sua origem e sua história de resistência, buscando suas riquezas timbrísticas e harmônicas como forma de reverência à vossa majestade: o Berimbau.
Olhar de perto, destrinchar a cabaça, a verga, a corda, o dobrão, o caxixi, desmontar e montar novamente todos os seus sons. Inventar e performar novo repertório para o berimbau, esse instrumento genuinamente brasileiro que nas ruas, praças, metrôs, palcos e terreiros resiste às investidas do tempo.
Essa é a proposta artística do grupo Arcomusical Brasil, sexteto que se dedica à criação e interpretação de novas obras compostas especialmente para essa formação.
O grupo é formado pelos percussionistas: Mateus Oliveira, José Henrique Soares, Alex Fraga, Natalia Mitre, Daniela Oliveira e Rafael Matos.
Múseu Abílio Barreto